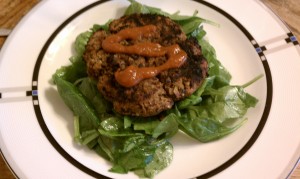 As summer gives way to fall and the hot nights of August give way to the cooler evenings of September, I found myself not quite ready to let go of the Summer BBQ. Thank goodness we live in sunny California and can BBQ almost all year round!
With that in mind, we cracked open Veganomicon and searched for a delicious BBQ like recipe and found an easy enough looking recipe for Black Bean Burgers. As usual, we modified the recipe a bit and ended up with fresh off the grill burgers and two extra to toss in the freezer for next time.
Even though the recipe says that the yield is 6, I say it's more like 3 or 4.
I also made a few modifications as follows:
Grill 'em: The recipe says to cook them in a heavy pan with oil. Instead, I grilled the burgers after putting some olive oil on each side.
Forget the buns: Even though burgers are usually done on a bun, there's something delicious and healthy about serving a burger on a bed of greens. Emily sauteed up some spinach (briefly as we still wanted some leafy structure) in lemon juice, olive oil, garlic (or "gahlic" as we say, being from Massachusetts and all) and fresh ground black pepper.
Ingredients:
1 can (15oz) of black beans (You can also use 2 cups of cooked black beans) drained and rinsed
1/2 cup vital wheat gluten
1/2 cup plain whole wheat bread crumbs (we used crushed corn flakes, just cuz)
1 tsp chili powder
1/2 tsp cumin
1/4 cup water
1 tbsp ketchup (or tomato paste)
1/4 cup finely chopped cilantro (or freezer cilantro)
2 cloves garlic (or 2 cubes of freezer garlic)
1/2 small onion (be brave! we used a whole one)
3 tbsp olive oil
Prep:
Pre-heat (and clean) your grill
Mash the beans up with a fork in a mixing bowl so that they aren't any whole beans left, but you still have some half beans in the mix.
Add all the rest of the ingredients in and mix with a fork. If you're using fresh garlic, grate it with a micro plane. If you have a box grater, grate the onion using the larger slots on the grater. We just threw the onion into our Magic Bullet and let it do the heavy lifting.
Kneed the "dough" with your hands for a minute or two until everything is well combined.
Divide the dough in half and in half again so you have four balls of dough
Pat each piece into a burger patty the size and shape of your dreams
Pour the olive oil in a small flat plate and touch each side of the burger in the oil
Put some fresh oil on the grill, and cook the burgers. I like to turn them 90° for cross hatch grill lines, but that's just for style. Flip and continue cooking on the other side. If you undercook the burgers, they'll be soft and gooey in the middle which is not a pleasant texture. The oil gives you the freedom to cook these a little longer to make sure you don't get that.
Serve and plate however you like! Buns, beds of greens, etc…
Some Tips:
A clean grill is a happy grill. Clean before and after use and always apply some fresh oil before cooking. This prevents food from sticking and makes everything you grill all the more nomnom.
Veganomicon specifically says NOT to manipulate the mix until ALL the ingredients are in there. Heed this warning. Mixing before everything is in (oops) results in super doughy, tack, gluteny, tough "dough" that you don't want. I made this mistake as I kept forgetting ingredients.
Experiment with other ingredients. Next time we make these, I plan to throw some corn in, shredded carrot, maybe even potato and rice! The most perfect vegan burger ever is from The Counter and I seek to get close to their mastery.
In the end, we had a delicious and healthy dinner paired with a glass bottle of our favorite True Red from Fenestra Winery.