We just returned from an incredible 8 days and 304km on the Yukon River leaving out of Whitehorse and finishing up in Carmacks.
It was an incredible journey through the Yukon that included wildlife, sunsets after 10pm, Northern Lights, sinking a canoe in whitecaps, exploring marooned riverboats, discovering abandoned woodcutting camps, finding old gold dredger parts, and amazing food.
This was all inspired by my friend Khalial who completed the trip a few years back and planted the seed in my mind of paddling the Yukon River, so hat tip to you, Khalial, and thanks!
Here are my quick notes on what you need to know for your very own Yukon River adventure.
The Yukon River Route
We started in Whitehorse, right in downtown on the river, and finished up in Carmacks for a total of ~304km. We could have added on another 5-6 days to push on to Dawson City, or much more time and pushed all the way out to the Pacific, over 3,000km down river, but that'll have to wait for another adventure.
About 40km from the start you enter Lake Laberge – or as we grew to call it Lake Lawaytoof'inglong. After slogging across the lake waiting out bad weather, paddling through swells, or paddling across still water, the real fun begins as the river picks up to (in our case at this time of year) 7-8km/hr. The remaining 200km+ is gorgeous, meandering, wonderful wilderness.
Aside from the occasional decision about which side of an island to go around, the river runs straight along and the only "routefinding" needed is knowing where you are on the map and where you plan to camp.
On one river day in particular, we literally linked up our three canoes, relaxed, fished, hung out and didn't really paddle at all… and still made it ~60km downriver just letting the river take us downstream.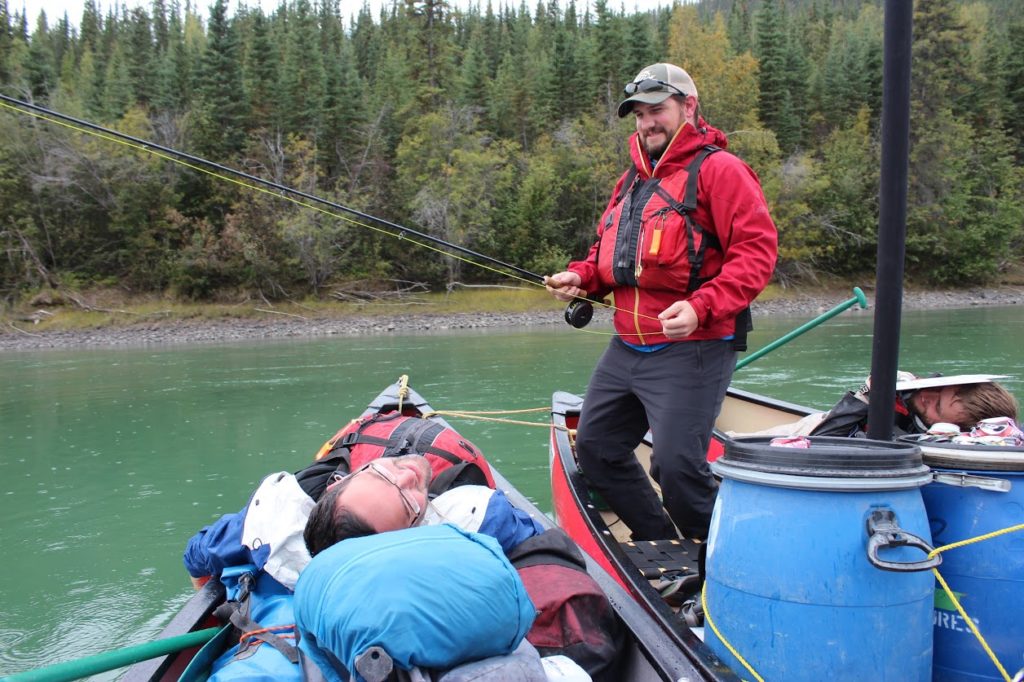 Along the way, you'll discover old burns (past forest fires), marooned riverboats, abandoned woodcutting camps, old gold dredger parts, and more.
Camps Along the Yukon River
Along the way are various established campsites that from use have flattened spots for tents, established rocky fire rings, good places to unload your canoes, and in some cases even a picnic table or even more rarely, perhaps an outhouse.
That being said, if you see a place you want to camp and can make it work, go for it.
Just remember that if you pass up a campsite, there's no "going back" as it'll be upriver behind you and if another canoe in your party doesn't get over to your campsite in time or is ahead of you, move on and catch up if you plan to stay together.
On our last night, the camps we wanted were all occupied and it was getting late, we were getting hungry, and we were approaching Carmacks fast. We explored a few options before finally settling on a unestablished sandy edge of an island. It was likely our favorite campsite of all of them in the end.
Grizzly Bears are a legit concern along the Yukon River so you want to cook far from where you store food, sleep, and keep your canoes. We were advised to pull off river, do all of our cooking, brush our teeth, and pack away anything scented, and then load up the boats again and continue on at least 1km more and make camp. Blech.
Once in camp, you're supposed to keep your food 200m+ on the other side of your tents as the water so that, worse case, if a bear is devouring your food in the forest and then decides to go for you, you can jump in your boat and not have the bear in your barrels between you and the canoes.
We did this whole cook one place, sleep another for the first two nights and then discovered the beauty of what we came to call "Combo Sites" i.e. a site big enough to cook and store food super far from where we slept.
Our Combo Sites allowed us to setup camp nearish to the boats and then much further downwind cook and then, a bit further on, store our food.
This setup meant we could have a relaxing dinner, hangout by the fire, drink, have snacks, brush our teeth and more, and then when it was time to go to bed, just walk back to our tents for the night. We came to love this setup personally, though it may not be advisable.
Outfitters
There are a few outfitters in Whitehorse including Kanoe People and Upnorth Adventures. We ended up going with Upnorth Adventures, though I ended up buying some paddling gloves last minute from the friendly folks at Kanoe People.
Basically, the outfitter provides you with canoes, paddles, PFDs, food barrels, dry bags, fishing licenses, bear spray, fuel, and any other gear you need and arranges for transport back from the other end.
Even if you had your own canoe and gear and wanted to travel there with it, you'd still need a way back and they can help to arrange all of that and more.
Bear Spray
You can not rent bear spray. You have to purchase it. Nobody will buy it back from you even with the seal still intact, so plan to pay for your bear spray, never use it, not be able to fly home with it, and tip your shuttle driver with it.
Bear spray is meant to be sprayed on a bear, like mace or pepper spray, which is basically what it is, just 10x stronger. So the bear has to be within like 2-3m of you before you spray. Bear spray is not bear repellent like bug spray. Do NOT spray it on yourself and end up needing a helicopter rescue and treatment for second degree burns. People have actually done this.
Yukon River Maps and Books
There's really only one solid book and one map worth reading.
We picked up Paddling the Yukon River and Its Tributaries by Dan Maclean and used Mike Rourke's Yukon River maps. These obscure books are often only available from specialty shops online or the above outfitters by phone.
Matt scanned the map pages in that we needed (Whitehorse to Carmacks), highlighted all camps in green and all cautions/warnings in yellow, laid them out 4 up to a page, printed them double sided (8 map sections to a page) and then laminated each sheet. This was brilliant. This gave us waterproof map sets for each boat that could be written on with marker when needed. You, too, should do this.
Connectivity along the Yukon River
None. There's data coverage in both Whitehorse and Carmacks but otherwise don't expect even an analog signal anywhere in between.
Greg had a PLB (Personal Locator Beacon), and both Matt and I had SPOT devices (satellite trackers that allow us to "check-in", track our route, and request emergency assistance).
Lesson Learned: Put fresh batteries in your SPOT before you head out.
Even though I brought a fresh set of backup batteries, the old batteries in my SPOT had just enough juice in them to allow the SPOT to turn on, acquire satellite signal and tell me that it sent a successful "check-in" notification to our families, even though for 3 of our days it wasn't actually sending any notifications which caused pandemonium back home. Once I swapped the fresh batteries in, all was well. So learn from me, put fresh batteries in before your trip!
Travel to the Yukon River
Whitehorse has a commercial airport that we flew in and out of via a layover in Vancouver. It's a tiny airport (4 gates, maybe?) but it's the biggest one around. Carmacks and many other places have smaller strips and such for small planes. There were even a number of float planes over the lake or along the river, so if you're chartering a bush plane, you can likely get dropped off most anywhere.
Once in Whitehorse, the town is tiny and you can walk from the airport to the hotels, downtown, or the river. There's also a free airport shuttle to most all of the local hotels that comes on by the airport after each flight lands.
We checked one bag each that had gear and such. Matt carried his fly fishing rod onboard as carry-on. I checked my camp stove. Check your knives and sharps. Leave your camp fuel, lighters, matches, and bear spray at home and pickup locally once in town. You can, however, as Devin found out, carry one lighter on your person in your carry-on. The TSA left me a nice note saying that they inspected my checked bag.
Food on the Yukon River
Whitehorse has both a Real Canadian SuperStore mega grocery store (though locals tell us it's tiny compared to other ones throughout Canada) and more recently a Walmart and for more specialty food items, my favorite, Riverside Grocery.
You can email in a food order ahead of time to the SuperStore and they'll pick your food items for you, pre-freeze stuff if needed, pick produce and bakery items last minute, and box it all up ready for pickup for a mere 5% pick and pack fee which was more than reasonable.
I was shocked at the selection they had and even the number of speciality items available included vegan options like earth balance and tofurky, and ethnic food items like coconut milk, coconut cream, rice wine vinegar, soba noodles, and lentils.
They have many large size items, like mega bags of potato chips, huge peanut butters, 1kg bags of trailmix and such, so make sure to review your order as you checkout so that you don't end up with 6kg of mayo when you really only needed 6oz, like we had happen to us.
You can pickup fuel at the camping store in town on Main St or at your outfitter. We were also told you can get fuel at Canadian Tire. You can not return fuel, even if you just purchased it 30 seconds prior, so make sure that you get the right fuel for your equipment. Or barter your wrong-sized fuel for things like camp chair rentals which we did.
We brought along a two burner coleman stove along with plenty of cookware (large pots, frying pans, spatulas, cutting boards, chef's knife, paring knives, spoons, etc…) and ate like kings.
We also brought Jetboils, a 50 oz french press, and freshly ground coffee from a local roaster in Whitehorse so we could start each morning with amazing coffee (8oz for everyone at the same time).
We had hot dinners every night, sandwich like things or leftovers for most lunches, and a mix of quick/cold breakfasts and big/hot breakfasts.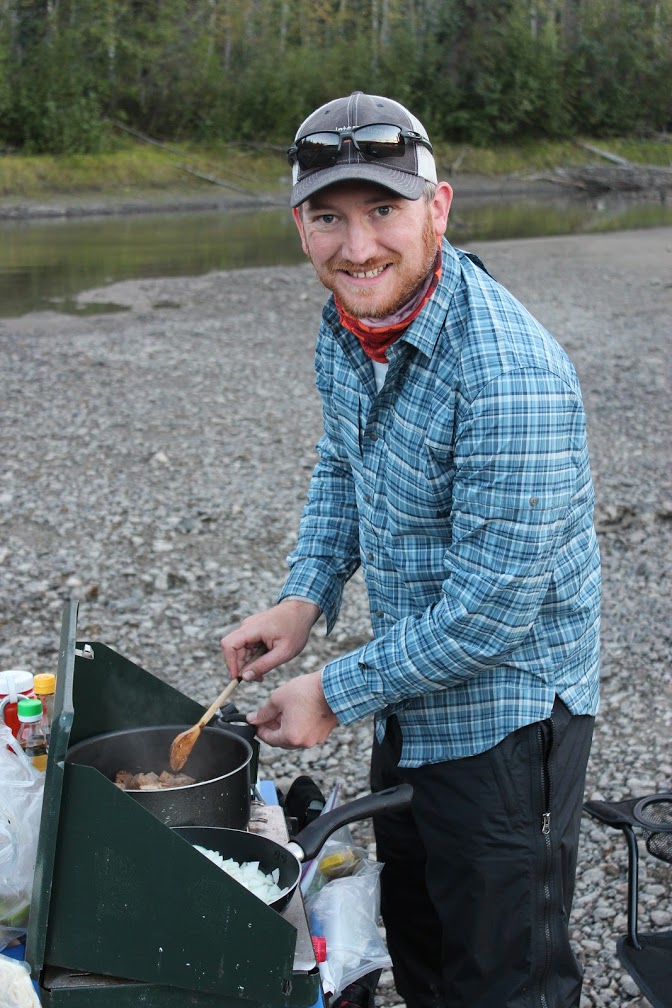 Dinners included things like coconut red lentils, quesadillas, burritos, stir fried soba noodles with tofu, green pepper, and onions, sloppy joes, pasta with veggies, and on one night, hot dogs over the campfire.
Lunches included things like quesadilla leftovers, epic PB&J samiches, falafel and hummus pitas, salami and cheese pitas, yellow curry with cashews, peas, and raisins over rice, and black beans with rice and tortillas.
Breakfasts ranged from cheerios and muesli, to yogurt parfaits with granola and fresh blueberries, all the way to eggs, bacon, and toast, tofu scramble with black beans, salsa, and spices, bagels with lox, red onion, and cream cheese, and on to big breakfast burritos with eggs, bacon, green peppers and onions, and more.
Snacks included things like cashews, almonds, trail mix, stone fruit, bananas, apples, potato chips, tortilla chips with salsa, grapes, fresh cooked popcorn, freshly roasted almonds, and hummus with celery and carrots.
When we sank one of our canoes in the swells of Lake Lawaytoof'inglong, a 1kg bag of almonds got some water in the bottom. Instead of throwing them away, Alex suggested we roast them. Brilliant. We roasted the almonds on low heat with olive oil, salt, pepper, and curry powder. They were delicious.
We also picked up 1 liter of olive oil, a salt grinder, pepper grinder, red chili pepper flakes, curry powder, and granulated onion. Add in a box of trash bags, a box of gallon ziplocks, and a box of quart size ziplocks, and you're in great shape.
Two of us were also vegan, so anywhere there's a meaty meal above, we had a vegany option. For example on the yogurt parfait breakfast morning, we ate cereal with almond milk. On the eggs and bacon morning, we had tofu scramble with tofurky fake bacon. On the hotdog night, we had tofurky sausages in herb buns. Otherwise, everything was all vegan, healthy, full of protein, fats, and fiber, and wholesome.
I had originally allocated 84 beers (2 beers per person per day for 6 people for 7 days of drinking) but Nick and Alex informed me that this was a terrible estimate and picked up ~140 beers. Then they purchased two more cases "just in case" and our outfitter then told us that they were surprised at how LITTLE beer we had.
I'd advise purchasing cans (they weigh less and can be crushed to smaller sizes when done) vs. bottles (which typically have better beer but are heavier and can't be safely crushed to smaller sizes). Or, if you're really smart, just bring liquor which takes up far less space.  In the end we brought something like 35L of beer which took up a lot of space in our barrels.
Speaking of barrels… all of your feed and beverage and smelly stuff (sunblock, toiletries, trash, etc…) has to go into your barrels. We ended up with 4 large barrels and 2 small ones.
For water, we bought 5x 10L water jugs with the built in taps as Whitehorse's sewage treatment plant dumps into the river and the lake, and we wanted none of that. Later on in the trip, when we could pump, Devin had a brilliant setup of a bucket with a tap drilled in an inch or two off the bottom (so silt could settle if needed) which then fed into an inline water filter when then refilled the 10L water jugs.
We picked up ice at the SuperStore, too, though we should have bought much more. Block ice would have been ideal. We brought 5 packs of ice, but they all melted by day 4 which is when food started to spoil. We still ate everything and nobody got sick, but next time, I'd bring way more ice.
Fishing on the Yukon River
Matt packed his fly fishing rod for the trip and those who planned to fish got fishing licenses at our outfitter before heading out. The river was full of arctic grayling, pike, and more. Both Matt and Greg caught fish and had a ton of fun.
Northern Lights (Aurora Borealis)
One of the things we were really looking forward to / hoping to see were the Northern Lights. It's easier to see them in the winter (when it's dark like the entire day) but if you don't mind staying up super late, you can catch them during the summer, too, as the days go from 24 hours of daylight on down. While we were up there in late August, sunrise was at 6am and sunset just after 10pm. We saw Northern Lights around like 2-3am and one night around 1am.
Greg slept outside many a night, like he threw down an air mattress on spider beach and straight up roughed it. We were thankful that he wasn't carried away by spiders, mosquitos, or bears. We were even more thankful, though, that when he awoke and saw the northern lights dancing over the tree tops that he woke us up to join him and see.
The greenish to light whitish phantasmal display was so cool and dreamlike. Greg even got some photos!
Securing Your Gear
The aforementioned dry barrels keep all of your food (and your Ukulele if you're me) dry.
Huge dry bags keep your gear (tents, sleeping bags, clothes, etc…) dry.
Everything that goes in the boat should have a tie down point and you string it all together with some accessory cord from one end of the point to the other and then tie in a quick release.
The idea is that if you tip and abandon ship that you end up with a string of gear attached to the boat in one long line vs. a yard sale of everything floating down the river (bad) or a waterlogged canoe with a spiderweb of line going sixteen ways over everything that you have to cut or untie and then lose in the water (also bad).
When we sunk a canoe in swells, we pulled the quick release, everything trailed out, and we used the tow rope on the front of the boat to bring everything to shore safely and in one piece.
Around Town
Whitehorse was a surprisingly happening town with lots of restaurants, bars, and things to do and see.
Our first night we went to the Gr8ful Spud which had a great selection of beer, board games to play, delicious food (including vegan Poutine!), and good service.
We went to Baked Café for breakfast and while they don't have hot breakfasts, they had delicious espresso beverages, fantastic muffins, pull apart breads, and other baked goods.
Burnt Toast Café looked great for breakfast but they didn't open until later in the morning and we had errands to do.
The Dirty Northern Public House (and their next door companion restaurant The Miner's Daughter) served a great selection of beers with solid food in a great atmosphere with good service.
Yukon Brewing offers tours most days, samples their delicious brews, and is a great place to visit.
Midnight Sun Coffee Roasters grinds up some excellent small batch coffee.
Lessons Learned
Don't Canoe Through Swells
When the weather is crap and you see whitecaps on the lake, get to shore and stay on shore. Paddling through rolling 1-3m waves is a bad idea. It's a great way to take on too much water and sink a canoe. When that happens, get to shore, start a (big) campfire, dry off, have a beer, dry your gear, and wait out better weather.
Pack More Ice
We should have brought more ice as half way through the trip, food started to spoil that could have kept if we had more ice. And beer started to get warm. Ew.
Print Your Recipes
I had printed my food pickup list, recipe ingredient list, and meal plan, but didn't include the recipes for some of our meals. Thankfully, I had them stored in a Google Doc that I had kept offline and on my phone so for the two recipes I had forgotten an aspect of, I was able to consult the recipe easily. Next time, in addition to the above items, I'll also include a printed copy of any recipes I'll need to consult or want someone else to cook.
Start on a Weekday
We were surprised by how many other parties we saw along the river and had to compete with for campsites. We wanted to be in the wilderness, and for the most part we were, but when other groups paddle past your campsite in the morning, or you pass them and wave while they're enjoying their campfire at the site you wanted that night and have to look for another spot, you can forget that you're in the wilderness. Instead of going Saturday to Saturday, next time around, I'd do something like Wednesday to Wednesday to avoid overlap with the masses.
Put Fresh Batteries in your SPOT
See above. There was chaos and lack of sleep back on the home front because my SPOT had just enough battery to check-in the first night on the river and then lie to me that it checked in for three more nights until on the fifth night it actually died. New batteries fixed everything.
Seal and Waterproof Everything
A dry bag is useless if you don't seal it. A ziplock does no good if it's not sealed. The consumer grade dry bags are jokingly called "damp bags" for a reason. When we sunk a canoe, most everything was fine, but things not in a full-on pro-level dry bag or not in a sealed dry bag got wrecked, including Devin's phone. No bueno.
Redundancies Matter
When Greg's rainfly melted in the rain and became cheesecloth, he and Devin were able to split up between Matt and my three person tent and Nick and Alex's three person tent. When the burner on your stove doesn't want to light after being sunk in a canoe, it's nice to be able to field service your stove with your multitool and get it working again, or fall back to your Jetboils. When some of your food spoils towards the end, it's awesome to have extra dry and canned goods for a meal. When one of your paddles goes overboard, it's nice to have a spare per boat. If you want to go "ultralight" (which you wouldn't in a canoe anyway) you're typically leaving out redundancies and narrowing your margin for safety. Don't do that. We didn't. We still had a great trip despite all items above as we had redundancies.
Inspirations, Aspirations, and Do Over Ideas
Along the way we ran into a Viking Ship sailing from Whitehorse to Dawson City. The ship builders hand crafted the ship in Tennessee, drove it 4,000+ miles to Whitehorse, and then set sail. In a Viking Ship. That's awesome. What started likely as a conversation between friends one night over beer turned into planning a ship, building a ship, figuring out transportation logistics, and then actually setting sail. Incredible.
In Carmacks, we learned about the Yukon River Quest, a race from Whitehorse to Dawson City (715km), the world's longest canoe and kayak race. People race solo in kayaks, tandem in kayaks and canoes, and even solo on Stand Up Paddleboards! Teams that finish in under 55 hours receive price money. That's an average of 13kmh for over two days straight… Crazysauce.
Lake Lawaytof'inglong isn't worth ever seeing again. Apparently, you can get jetboated across the lake and start at the end. I'd do that next time… and continue on to Dawson City… or the Pacific…